Free Transgender Chat Room
Free transgender chat room, online 24/7. Just sign up for instant access. This is a social chat with transsexuals, cross dressers, transgender, t-girls and admirers. Enjoy our transgender chat room. We strive to be totally inclusive. We welcome male to female, female to male, pre-op, post-op, non-op, transgender, transsexuals, cross dressers, transvestites, intersex, androgynous, straight, gay, bisexual, pansexual, metrosexual, genetic males, genetic females, significant others and friends. We're a very friendly chat room so please come in and make new friends but please review our 10 simple chat rules below and comply with moderator requests.
TRANSGENDER CHAT LOGIN
Click this chat icon on any page of the website to enter our SSL secured trans chat. The chat supports up to 100 concurrent users. This chat is compatible with virtually all web browsers and is completely mobile friendly. For security reasons, we now require a simple 30-second registration with e-mail verification prior to entering the chat.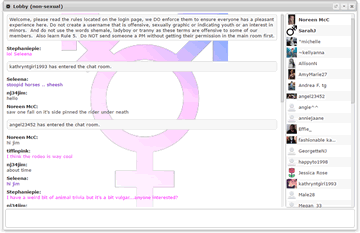 ---
MOBILE CHAT
You may now access our transgender chat on your mobile device. Go to www.tgtalk.com in your mobile device's web browser to log in and chat on the go!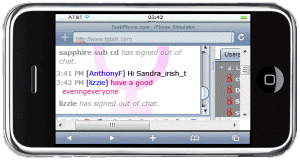 ---
TG Chat Rules
The transgender chat room is frequently monitored by moderators who may or may not identify themselves as staff members. You must abide by their instructions at all times.
1. You must be at least 18 years of age.
2. No abusive or profane language. Please keep it civil.
3. No flaming, personal attacks or abuse against other users.
4. Do not advocate any type of illegal activity.
5. No unwelcome private messaging – Ask first if it is ok to send a PM.
6. No scrolling text, excessive audio emoticons or other disruptive activity.
7. Do not drop web addresses or links in the chat room for commercial sites or products.
8. Cybersex is not allowed in the main lobby. Take it to the Cybersex room.
9. Disrespect of staff members/monitors will not be tolerated.
10. We may restrict or ban anyone who creates a disturbance of any type. We're very friendly, so please just be nice!
Please Note: TG Chat moderators are necessary to ensure a safe and enjoyable experience for everyone. Please cooperate with their instructions or warnings.
---
Friends of TG Talk

click here to download Amber Lynn's FREE T-Girl Dating Guide

---
What's New
New responsive site theme for both desktop or mobile devices
Comodo SSL certificate installed on server for visitor security
Trans chat software upgraded to provide service to 100 concurrent users